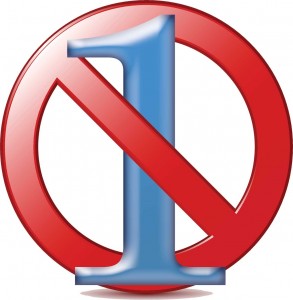 A friend asked me the other day, very gently and very sincerely if I wanted to be "A Number 1."
We're all tired, we work hard. We love our families and our friends. We want to take care of everyone around us, while taking care of our own health. Much depends on how well we take care of our temples. If this earth suit for our soul goes down, the domino principle begins and we're no longer holding the remote to make it stop. Not that we've ever really held the remote, but we definitely have a choice in the channels.
I've said that to say this: "No, I don't want to be a 'Number One.'" I LOVE being a number two. Sometimes a number three—and yes Honey, a number four when needed. By God's Grace, I'm an outstanding number two!! (Laughing Out Loud and Smiling) It doesn't mean that I get a hall pass on running the race any less diligently or purposefully diminish my efforts for endurance. It simply means that I don't want to be in competition with anyone else predominately.
What that does mean however, is that I look forward to continuously educating myself whether it be formal or informal. I have come upon many lovely people with more than one Master's degree who are currently unemployed. They, like many of us, have had to think differently on how to make a living. What some have stumbled upon is going back to their roots and doing what they love—even if it means canned beans in their diet for a while. Yep, Ruth Chris once upon a time, Goya Beans today, and let tomorrow take care of itself!
We've come to discover that putting together the puzzle pieces of what makes us tick and what we have a passion for are part of the equation for waking up in the morning and being our absolute best. Giving our all is still expected and should be expected!
Call me Jeeves, but I LOVE serving others… on my terms. Why?? Because if I CAN take care of a need, fix a problem, come up with a workable solution, make someone smile—I will. I enjoy the journey between Court Jester and Cup Bearer and everything in between. The distance between the two can be a long road or a short skip and a hop. When I love what I'm doing, I'm energized and you can ring me out like a sponge. By God's Grace I'm usually pretty quickly provided for with more of what's needed to go further.
So just by the very titles of Court Jester, Cup Bearer, Go-fer Extraordinaire, Co-Conspirator, VP for A FontLife Publication, LLC, Client Services, Human Resources… you get the picture. I'm a happy camper being a NUMBER TWO! And even though you will never hear the maddening roar of a crowd at a stadium shouting, "We are number 2! We are number 2!—somebody's got to be it!!"
(Here's my secret… shhhh…) Be a number 1 at being a number 2… keep your mind, your heart and your life intact. Take care of your family, breathe, stop and smell the roses, the lilies, and carnations. Touch the earth, literally before you're buried in it. Listen to music that soothes or invigorates. Read—an old fashioned book in your hands with pages that envelop the musty smell of that foreign yet familiar place called a library. Eat healthy for heaven's sake and have a bon-bon while you rock on! DE-electrify!! Yes, you can—even for a few hours. You must. And yes, above all give thanks. We can't be happy in a continual state of "Want."
The dollar is necessary, sincerely. However, I've been in a few mansions in Upper Montclair. You cannot purchase joy nor peace.
Here's to the Number 2's! How may I help you today?